I finished up the Russian Coalition Fleet, Tiny Flyer Tokens and all. So I submitted my application to Spartan Games for their Spartan Vanguard Program. They ask for up to 14 days to process the application, so now I get to sit and wait.
When I set up both fleets for pictures, I realized that I really liked the Russian TFTs turned out. So in the future (at some point), I am going to be striping my Covenant of Antarctica TFTs and repainting them up all blue sky and flying like I did the Russian Coalition TFTs.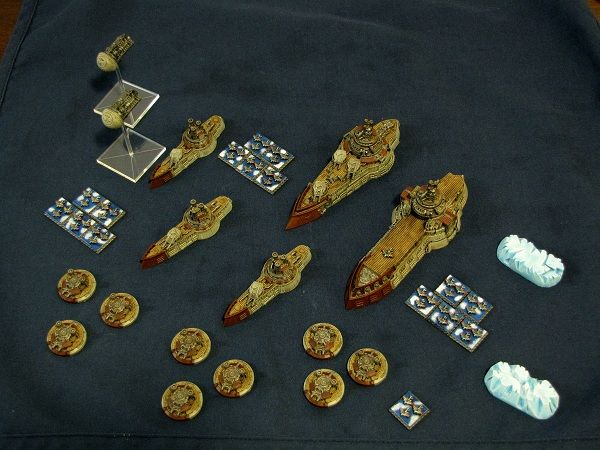 Since painting up both Fleets quick, dirty, and table-top worthy, I definitely believe that the Russian Coalition fleet came out better. I am sorely tempted to strip and repaint up my Covenant Fleet but I am going to try and stick to my guns and leave it as is, rather than change it and possibly make it worse similiar to how George Lucas fucked up the original Star Wars trilogy.
I placed a rather large order with Battlefoam the other day. With the sheer amount of Trollbloods that I own now (Hush Scott!) I figured it was time to get some foam and fill up my P.A.C.K. Air. So 5 custom cut foam trays are incoming as well as trays for my Storm Strider, a Stormwall, the Mountain King and the War Wagon. I figured since I would eventually own all those models (having recently purchased a Mountain King, and already owning a Storm Strider) I should own the foam to protect them. The new foams will also allow me to store all of my future purchases for my Searforge Commission lists and Trollblood lists as well as possibly storing other random models.
For my next project I am going to finish painting up the Runebearer for the Trollbloods and paint up Borka Kegslayer and his brew buddy. Hopefully by then, I shall have General Ossrum firmly in hand and will paint him up and the Wroughthammer Rockram for my Searforge Commission army.