I know that I was remiss my duties last week and did not make a post on the blog. I was just busy. Plain and simple. This week, I figured I would get a jump on the post and get it posted today instead of Monday. I have been painting. I painted up a Driller for the Armory …I painted it pink! Oh yeah, that bad dog is pink as pink can get! I have already taken it down to the Armory and set it up in the display case. I suppose I should have gotten pictures of it first but I wasn't thinking. So while I wasn't exactly painting up a model for my Searforge lists, I was at least painting up a Searforge model.
I have started in on the Basher, I know I said I would be working on a Ghordson Blaster, but who can resist a 10-ton-wrecking-ball-of-destruction-with-legs! Seriously! Who?! Certainly not I! Oh no!
Per my usual I have started with the metal parts first since it involves the messiest step, the drybrushing. I have also selected the Basher's base and drilled the pre-requisite holes to mount it. Actually I used the last of my last P3 Primer on the base. I have one of the 50mm bases left from Dragonforge and it is being used for Brun Cragback and Lug, both of which should be coming in soon. Chris and I did a trade and he is ordering them in for me. Sweet Jeebus! A Dwarf and his Dancing Bear of Death are a comin' to my lists!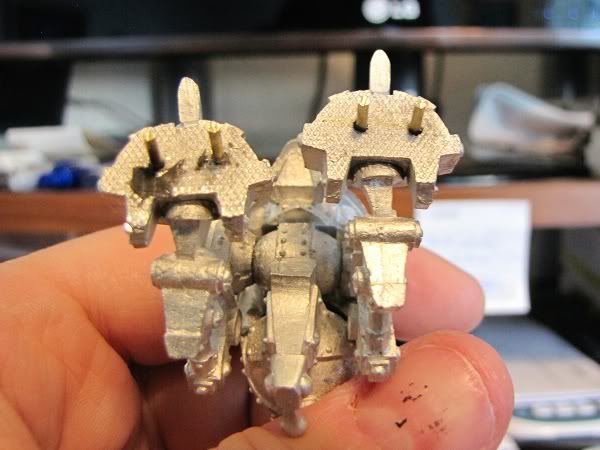 I am still unsure on how I am going to paint some sort of nose-art on the Basher though. I am debating painting teeth around the bulbous part of the model where all the studs are. Kind of like a lamprey's mouth, just a circle of teeth. Speaking of nose-art, I did finish up the Avalancher, I added the highlights to the gold and the bolts but I didn't put anything on the shield. Seeing as how I haven't killed anything with the cannon yet, I feel that it would be inviting the Dice God's Divine Wrath and the Avalancher wouldn't get a chance to blow anything up. Once I start getting kills with the Avalancher I will paint on the kill marks and then take a picture or two to post.
One a different note, it looks like James and Games is no more and Matrix Games has been born from the ashes of a poorly run business with a less than savory owner. Allen, the owner of Matrix Games is very nice and amazingly enough has run a business before. I had a chance to go in and talk with him the other day and was immediately impressed by his plans for Matrix Games. Our dialogue was open and honest, we briefly touched on what happened over a year ago, and he told me, 'New store, new start.' Allen came across as very laid back and very nice. His lady, who was behind the counter when I came in, was also very polite, though I do not remember her name. I know shame on me.
Allen told me that he is going to do a Hordes: Domination Release event…so since my Gators didn't sell on Bartertown or down at the Armory, I am going to take that as a sign from the Dice Gods that I am meant to learn and play the Gators (Thrid times the charm right?). So I bought the new Warlock for the Blindwater Congregation for the Domination Release event and I hope to play him during the event and wreck face with him. If I can get the time off of course.
Speaking of the new hotness…GW sure does know how to make me want to play 40k again. The new Necron models look absolutely amazing! Wow, just wow! They look cool. And being the fluff whore that I am, I am going to pick up the new Codex. From what I saw in the White Dwarf, GW finally fleshed out the Necron's, every pun intended, backstory. There is one model that I am buying and painting up just because of how awesome he looks. Imotek the Stormlord or something like that. Anyway off to paint a bit and then off to fix a friend's computer.