And the holidays are finally over! Whew!!
I made out like a bandit and I am supremely happy (and thankful) with everything that I was given for the 2012 Christmas Season. Scored a Kindle from the In-laws, an awesome Hoodie from my mom, the spouse bought me a Circle Orboros Holiday Bundle from the PP Store in addition to the two latest books from my favorite RPG, Legend of the Five Rings, The Book of Air and The Book of Earth, and a much needed replacement to my electric razor
I honestly didn't have the intention of starting another Hordes faction; I just seeded my Christmas wish list with items that were over $100 so that I could make sure I got the two L5R books, which combined were about $60. It all started when I asked the Lady what the overall price limit was going to be for gifts this year. She told me that we would spend no more than $100 on each other. One day I am checking the bank accounts online and I noticed a spike in the credit card bill, so naturally I went to investigate and saw a purchase from the Privateer Press Online store…oh boy! She blew past that $100 limit in one fell swoop. The Faction ADD that I suffer from caused me to jump in delight as I knew a new army was coming in for me to play!!
That being said, Scottie-too-hottie and I are going to be working on painting up Tier 4 lists. I believe he is working on a Kreoss T4…so butt-tons of Knights Exemplar, Errants, Bastions, and a few Warjacks. I on the other hand will expand out the Circle Holiday Bundle into a Baldur the Stonecleaver T4 List.
Scottie is also going to be hosting a 35pts Hardcore Steamroller Tourney at NorCon this year so I am going (yeah yeah yeah, I am a commit-a-phobe when it comes to finishing past painting projects) to have the Baldur T4 painted up for that. Which gives us: New Year's Resolution #1.
Last night I spent 5 hours vomiting forth a Rocks of Orboros tier 4 list onto my desktop in a frenzy of Zap-a-gap, pins, pins vices, green-stuff, and glued-together-fingers. I still need to finish assembling Megalith but since I am going to mod him so that he doesn't have that crazy arms-raised-orangutan-pose, that will take a bit more time, since I am super horrible with green-stuff work and in all honestly I will probably outsource this to someone who is much better at green-stuff than I am.
Last night I also finished up the Precursor Knight figure I was working on for the upcoming IKRPG game that I will be taking part in. And since this is a blog about painting and painted miniatures, I'll leave off the first post of 2013 with a few pictures of the fully painted Knight of Morrow.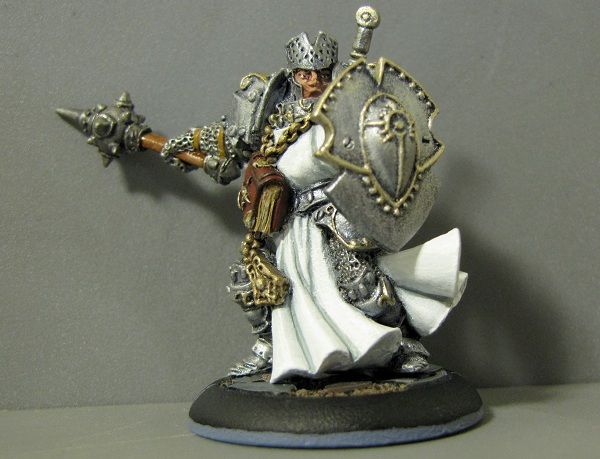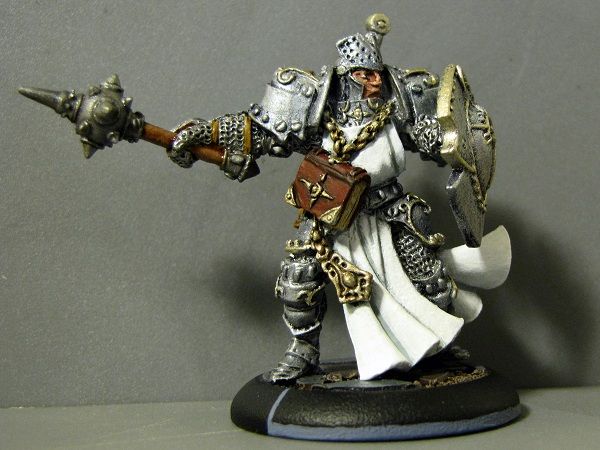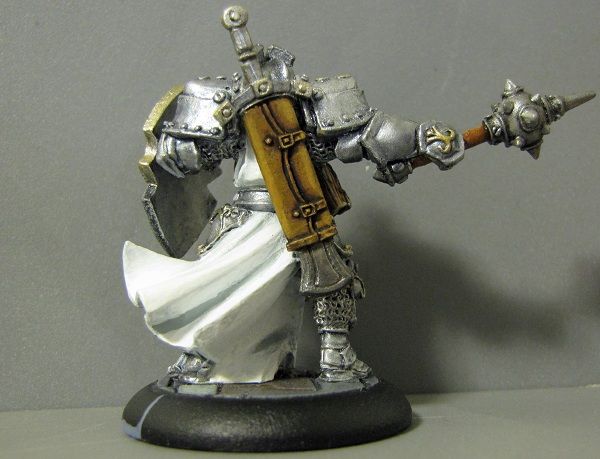 Hmmm...just noticed I need to hit up the buckles on the Caspian Battleblade sheath before I seal the mini...check!